Presents
Ir Sh Ch UK Sh Ch Int Ch Riverrun Agus Avic
Sire:Ir Ch UK Ch Int Ch Penrose Nomad
Dam:Ir Ch UK Ch Int Ch Arnac Bay Winota
Whelped: 3rd May 2008
Eye cert clear 11/1/2013 Hips BVA 4:4 Elbows excellent DM carrier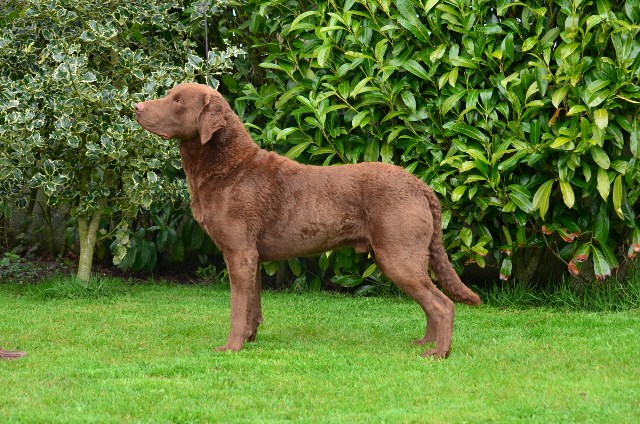 Ir Sh Ch UK Sh Ch Int CH Riverrun Agus Avic " Mossy"
Achievements: Only just 5 years old Mossy has achieved a great deal for a dog so young. He gained his Irish show champion title before he was 2 years old. In his first year being shown in the UK he was unbeaten in his classes. His first CC was won at the end of his 3rd year and the final 2 followed quickly before he was 4 years old. He is a group winner here in Ireland at championship show level. A tireless performer he sparkles and shows his true personality in the ring. Throughout the Winter he is not shown concentrating his energies as a working dog. He is my husband's choice of dog for roughshooting as he will hunt cover as good as any spaniel. He passed his field trial qualifier in January 2013 and subject to IKC, KC and FCI confirmation he will become our third full champion. Mossy is an energetic dog with a very outgoing personality. He is easy to have around other dogs and loves meeting people.
What the judges said:
" Lovely dog who comandeered the ring as he trotted around, in excellent condition defining the strong muscular Chesapeake, totally balanced....he looked like an athlete who could easily work all day on the deep muddy foreshore". Mrs C Mayhew, Crufts 2012.
" Scored on overall balance of height to length, much more pleasing in head than all the others so far, more pointed muzzle, broad backskull, nicely set eyes, grand front & rear angulation, excellent feet, correct body & back approaching hollow but not overdone, super sound movement, in super coat. CC & BOB". Mrs Z Thorn-Andrews.
Pedigree

Parents
GrandParents
GreatGrandParents
SIRE

Ir Ch UK Ch Int Ch Penrose Nomad

Quail Runs All the way to Penrose

AM CH Quail Runs Bear Cub MH
AM CH Coco's Chocolate Sensation
Pondhollow Country Kate at Penrose
Snocree's the Prosecutor
AM CH Pondhollow Bayberry Tides

DAM

Ir Ch UK Ch Int Ch Arnac Bay Winota

AM CH Pond Hollow Bering Sea
AM Ch Redlions Big Business JH
AM CH Pondhollow Abiline
Arnac Bay Pride
Arnac Bay Jetsam
Chestnut Hills Cheyenne