Welcome to Riverrun Chesapeakes
We at Riverrun are delighted to announce the arrival of Sea n'Land Master of the Sea for Riverrun, known as Yeats.
Sea'nLand Chesapeakes have a very similar breeding ethic to us focussing on maintaining the strong Dual Purpose Chesapeake that we all know and love.
We look forward to guidnig this young boy to his full potential.

Sea'nLand Master of the Sea for Riverrun ( Cursan's A Chance to Win x Sea'nLand Islay)
Chesapeakes have been part of our lives since 2002.
We set out looking for a dog as capable in the working field as the show ring and needless to say it also had to be a valued member of our family. We found not only a dog that filled all these requirements but from it has grown a passion to maintain the intelligence, strength and unique character of this wonderful breed.
We would like to introduce you to our newest addition , Riverrun Everybody's Friend aka Cara.
Find out more about her by clicking on her page.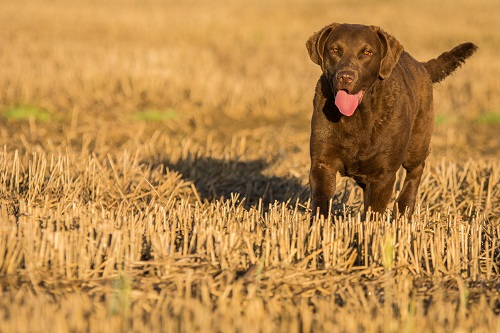 Over the last number of years we have had great success with our dogs when competing in the BASC gamekeepers classes at Crufts. Uisce has won the Marsh trophy twice for Best AV working retriever bitch. This has never been achieved by any breed. So this year, with Uisce absent from Crufts on maternal duties Lotta stepped up to the plate and unbelievably won the Marsh trophy again....bringing it home to us for the third time.